PAW UK Forensic Working Group
Providing forensic advice and support to wildlife crime investigations in the UK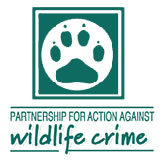 The PAW Forensic Working Group (FWG) was established in 1996. Its membership is made up of representatives from the forensic science community, government departments, the Police, UK Border Force and non-governmental organisations. The FWG aims to support the application of scientific technologies to countering wildlife crime in the UK. It keeps abreast of developments in wildlife forensics and works to provide tools for wildlife law enforcers.
The FWG maintains these webpages as a resource for wildlife law enforcement agencies, to support access to forensic science.  The following sections provide information on: the use of wildlife forensic science; the techniques available; wildlife DNA sampling kits; and how to access the UK Forensic Analysis Fund.  Click on the relevant image below to find out more on each of these areas.
STOP PRESS! Additional funding from Wild Justice and Natural England has been donated to our Forensic Analysis Fund and is available now to cover 100%  of forensic testing costs in UK raptor persecution investigations! Details on how to access this fund has been distributed to wildlife crime officers, but contact the FWG if you require further information.
If you are involved in wildlife crime investigation and require some advice on forensic testing please contact Lucy or Stephanie by email.