Wildlife forensic sampling kits
Securing evidence is the first stage in any forensic investigation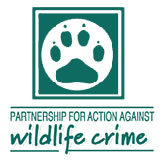 Securing evidence is the first stage in any forensic investigation.  All forms of evidence require controlled storage and transfer; biological evidence in particular also requires appropriate storage to preserve the items for subsequent analysis.  Trained scene of crime officers specialise in evidence recovery, but may not always be available to attend wildlife crime scenes or seizures.  In such cases, it is important that investigating officers have the skills and resources to perform basic evidence collection.
The FWG has designed and produced a Wildlife DNA Sampling Kit to enable UK wildlife crime officers to collect forensic evidence. Together with appropriate training, the kits can be used by any officer to secure and transfer non-human biological evidence for subsequent DNA analysis.
The Wildlife DNA Sampling Kits can be requested via our Crime Scene representative Elaine Rees at Elaine.Rees@beds.police.uk or 07961062380. The cost of the kit is £10.
The kit includes a guidebook that describes the equipment included in the kit and how to use it.  A .pdf version of the guide is available to download here.
If using this kit outside the UK please ensure that collection and sampling of evidence complies with national laws.
Guidance videos
A short video on how to use this kit is available for download here, and online viewing here.
NEW VIDEO!!! Follow this link to view our new video on handling suspected poisoned baits and victims, with updated health and safety guidance.