Financial support for wildlife forensics
The PAW Forensics Working Group (FWG)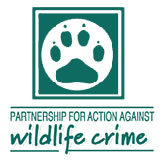 The costs of forensic testing, while usually a minor component of investigative costs, may be hard to obtain on a case-by-case basis.  To help support the use of forensic analysis, the PAW FWG operates a Forensic Analysis Fund that will pay up to 50% of the total cost of pre-approved testing.
STOP PRESS! Additional funding donated by Wild Justice and Natural England has been donated to our fund and is available now to cover 100%  of forensic testing costs in raptor persecution investigations! Details on how to access this fund has been distributed to wildlife crime officers, but contact the FWG if you require further information.
The Forensic Analysis Fund is open to all UK national and regional law enforcement agencies.  Individual investigating officers who wish to apply for funding should complete a brief application form for consideration by the assessment committee.
The applicant needs to include details of the case and quotations for the testing required.  Please feel free to contact the FWG if you require guidance on completing the application form.
Example costs for wildlife forensic analysis testing are provided here.
A summary of closed cases that have received Forensic Analysis Fund support (updated Nov 2020) is provided here.
The Forensic Analysis Fund application (v7, updated Sept 2022) can be downloaded here. 
Some completed example FAF applications can be found here
When submitting evidence items for wildlife forensic analysis, please follow standard forensic submission procedures and ensure that the appropriate paperwork is included. Examples of a forensic submission form MG21 is provided here.
As a condition of accepting Forensic Analysis Fund support, should the case go to court, it is required that an application for costs is submitted to the court and any costs recovered are reimbursed to Fund.  An example cost recovery form MG19 is provided here.
We are grateful to all contributors to the Forensic Analysis Fund, and the major current contributors are listed below.