Available wildlife forensic tests in the UK
The PAW Forensics Working Group (FWG)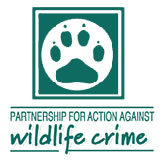 This section provides information on the types of forensic analysis available to UK wildlife law enforcement officers and examples of how different techniques have been successfully used to support investigations.
UPDATED MARCH 2023:

Costs and contacts for wildlife forensic testing in the UK. Download here.
Examples of forensic testing being applied in wildlife crime investigations in the UK.